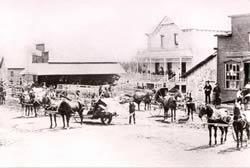 The Village of Pulaski was named after Count Casimer Pulaski, the great freedom fighter of Europe and America. Pulaski fought the Russians in his native Poland from 1770 to 1772. He later fought with General George Washington at Brandywine during the Revolutionary War from 1777-1778. After this battle, Washington made him a Brigadier General for gallantry in commanding cavalry troops. With congressional consent, Pulaski found an independent cavalry corps (Pulaski Legion). For this reason, he became known as the Father of the American Cavalry. In October 1779, General Pulaski was mortally wounded while fighting with American and French forces against the British at Savannah, Georgia. He died October 11, 1779.
John J. Hof, an agent of the General Land Company of Milwaukee, Wisconsin was responsible for settling the area that is now Pulaski.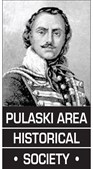 Hof encouraged Polish families in Milwaukee and in other cities to sell their homes and to buy land in Wisconsin. In 1883 the first settlers arrived in this area of second growth trees and brush to attempt farming. The trailblazers were Rudolf Wroblewski and Anthony Kulas. Then John Boncel came and set up a saw mill and a general store. They, at that time, determined to name their little colony after their Polish hero Pulaski. By 1885 there were 35 families in the area.
The Franciscans, under the leadership of Brother Augustine Zeytz, received 120 acres from Mr. Hof. The first Franciscan Assumption of the Blessed Virgin Mary Friary was completed in 1888, and the first Assumption of the Blessed Virgin Mary Church was completed in 1892. The present church building was finished in 1931.
Hof loaned money and tools and gave staple foods to help the settlers in Pulaski when the fire in August 1886 swept through, burning many of their buildings, crops and all the lumber for their church.
Source: Br. Constantine Klukowski, OFM